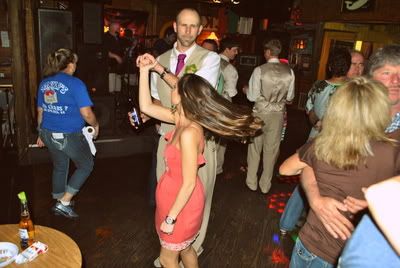 That was my hair in dance-motion just a few weeks ago during our weekend in Hot Springs for a wedding.
Cut to 2 weeks later and I'm perched in the salon chair waiting to have all of 11 inches snipped off.

Nervous? Sick in the stomach? Not me. Only every other hairstylist and customer in the salon. This is a time-honored tradition in my life that is just a normal routine for me. I never understand the attachment people have with hair. Much less
my
hair that's not even their own. My hair wasn't long because I was infatuated with it.
It was long because
it grows.
That's just what it does.
So every 2-3 years, with lots of haircuts in between, I let it go until I'm completely sick of the weight on my head and then...I
let it go.
So now it looks like this:
Locks of Love
, a non-profit organization that provides hair pieces to financially disadvantaged children suffering from medical hair loss, will receive my hair. The last time I donated, I was entering grad school in Conway. The time before that, an undergrad at Fayetteville. And the time before that, a senior in high school. I remember every one of these haircuts because they
meant something
. There's no other reason I would remember a specific hair cut from 10 years ago.
So trust me, it's a fun change! The next time you're getting ready for a haircut, if yours grows fast like mine, let it go a couple more inches. Then maybe a couple more. And then just
let it go.
Love ya!
~Katie
Follow @ktgray13