Hunter green was apparently a happenin' color in the late eighties and early nineties..Happenin' all over carpeting, wallpaper, and fireplace tile. At least in this 'ole house. But I've bid farewell to one more corner of hunter green existence for good with our much needed fireplace makeover.
Before:
I hated it. This is what I dreamed of my fireplace looking like...
I pinned it way back in the beginning of my pinteresting days.
When I finally made it to "fireplace update" on my list of home improvements, I started by shopping around for faux stones to cover the fireplace surround. My Home Depot and Lowes did not carry them, to my surprise, so my search continued a little longer than I would have liked. Some required a minimum purchase larger than what I needed and some just looked awfully fake. But I found one I liked in a light gray color scheme through
Antico Elements
. I just needed one 24 x 48 panel, but ordered a sample first to make sure I liked it up close. It was pretty realistic looking, cozy and rugged, but light as a feather. It cut easily with a jigsaw or circular saw and left smooth edges. I just measured the surround and cut according to fit, drawing lines on the solid back of the panel.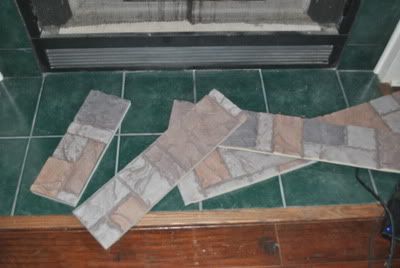 I paid $8 extra to get the fire-rated version.
I did alot of research and determined that since the faux stone I was using was so light, I did not need to remove the tile underneath. It would have done more damage trying to destroy it and with thin set mortar, the faux panels will not budge one bit. I used a trowel to smooth some mortar onto the surround, raked with the jagged end, then placed a panel on and held until it set.
Since our hearth is flush with the floor and not raised, I couldn't put a panel on it, since it would cover up the vent. I explored some pictures and found that I really liked the look of a slate gray hearth with stone surround anyway. So I ordered automobile engine spray paint that is made to withstand high temperatures. I chose a light gray primer and "Ford Gray" color paint by
VHT
. I taped carefully and use cardboard to cover the surrounding area. I primed twice then spray painted the "Ford Gray" color twice.
Then I held my breath to peel back the painter's tape for the
After: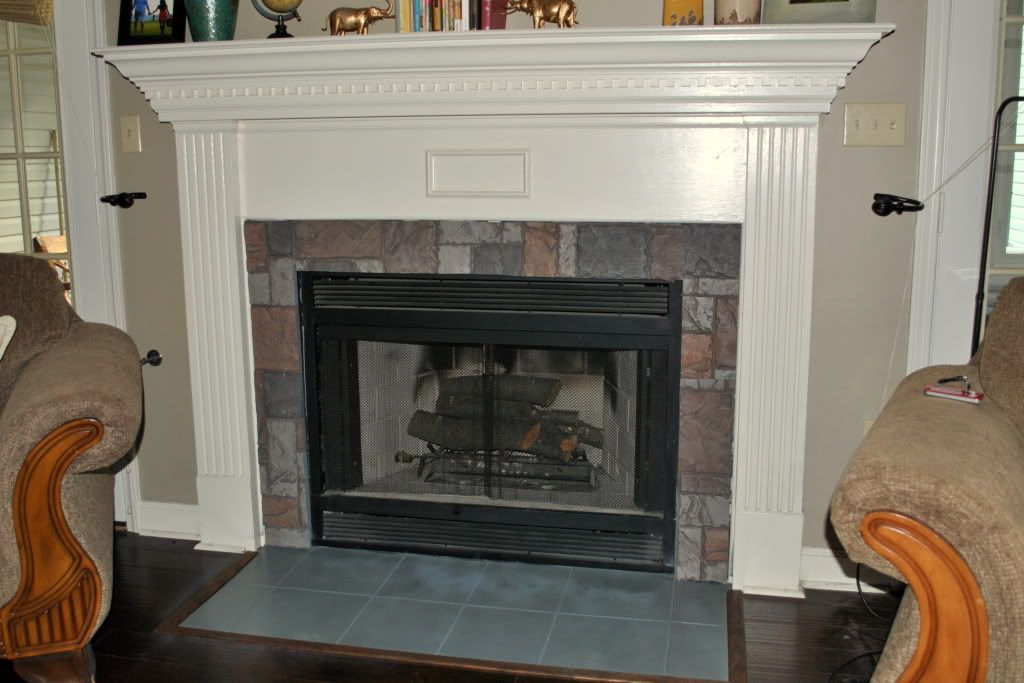 I'm ecstatic with it! You see alot of reflection in the hearth and floor so excuse that. But it's now so much warmer and cozier than the cold, green tile. I wanted to have a fire for the picture but it's 85 degrees. Bye bye hunter green...Another one bites the dust.
Check Back Soon!
Follow @ktgray13