The reception was the heart and soul of our wedding. It was always most important to us because we wanted our closest family and friends to be together in celebration and have a great time! In our search to find THE place, we visited an old train station, art galleries, a historic mansion, an art museum, a garden, and a children's museum. But once we saw Memphis Waterworks, nothing compared.
Our reception venue, Waterworks, was our ideal backdrop for an indoor/outdoor summer night party. We hoped it would convey our uniqueness, down-home spirit, and love of all things imperfectly beautiful, aged, and antique. After all, not just anyone would picture their wedding reception to take place in a 100-year old lumber shed, but to us, it was perfection. Waterworks is a store and showroom for antiques, garden fountains and elaborate water features.
After leaving the church, our guests crossed the bridge and headed to Memphis. They entered through the red french doors to the Waterworks showroom.
Brick pathways were underfoot, as well as original wide-planked, beat-up wood floors.
Our guests left their finger print "balloon" on a drawing I sketched of our house with strings attached, inspired by our favorite animated movie, Up.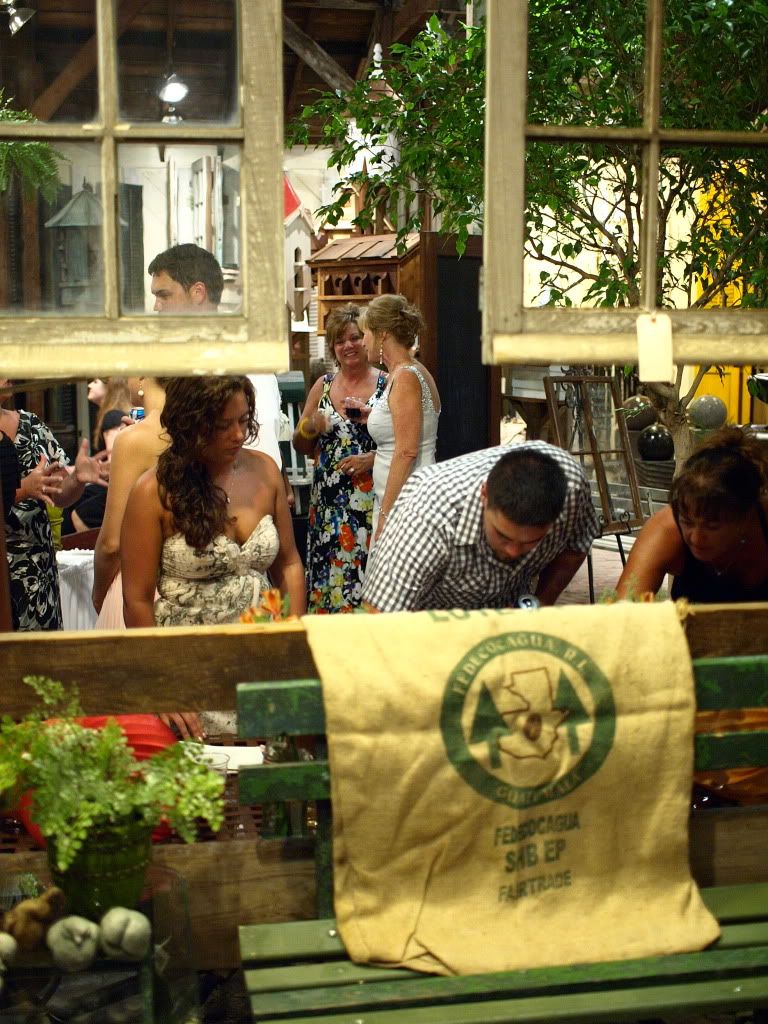 And we had a traditional guest book too.
Water fountains and features created a constant serene trickling sound around every turn.
Ferns and industrial lights and lanterns hung from the exposed wood rafters.
Garden benches and patio tables provided lots of different ambient conversation nooks.
Antique, imported doors lined the walls.
The stone statues and fountains were beautiful.
I wrote our menu on an old broken window with a white paint pen.
We served southern favorites like shrimp-n-grits...crawfish cakes...barbecue nachos...fried green tomatoes...sweet potato fries...

Catered by Me and My Tea Room
.
And served our favorite classic, glass-bottle cokes.
Our cakes were displayed on large stone fountains that I made round table tops for out of wood and fabric.
What was supposed to be a white cake decorated with all white gardenias, instead looked like this. But it was still beautiful and I saw no reason to complain with all the blessings and beauty around me.
Sean's chocolate Groom's cake was an Arkansas Razorback ice chest with bottled cokes on top.
Another set of red french doors, led to the outdoor courtyard.
Outside, the landscaped courtyard was tented and strung with twinkle lights.


The koi pond was lit up and all the outdoor water features gave off a light mist whenever a welcomed breeze came through.

Our band, The King Beez blues band, played feel-good, Delta blues classics and were the perfect sound for the whole night. More on them later!


The first song I heard when I walked outside after Sean and I arrived was 'Sittin' On the Dock of the Bay' by my favorite, Otis Redding. Life was so good!


We couldn't believe we were finally here.
Early in the evening, everyone ate and mingled, stepping inside to visit or cool off.
We were sure to fill our plates with a little of everything we had chosen.
MMm mmm gooood.
I so wish I could've frozen that moment. Hear the sounds, see the people, have the feeling again. The moments were a blur and happened too fast to process. What a fun night it was!
Check back for the first dances and cake cutting!
Follow @ktgray13